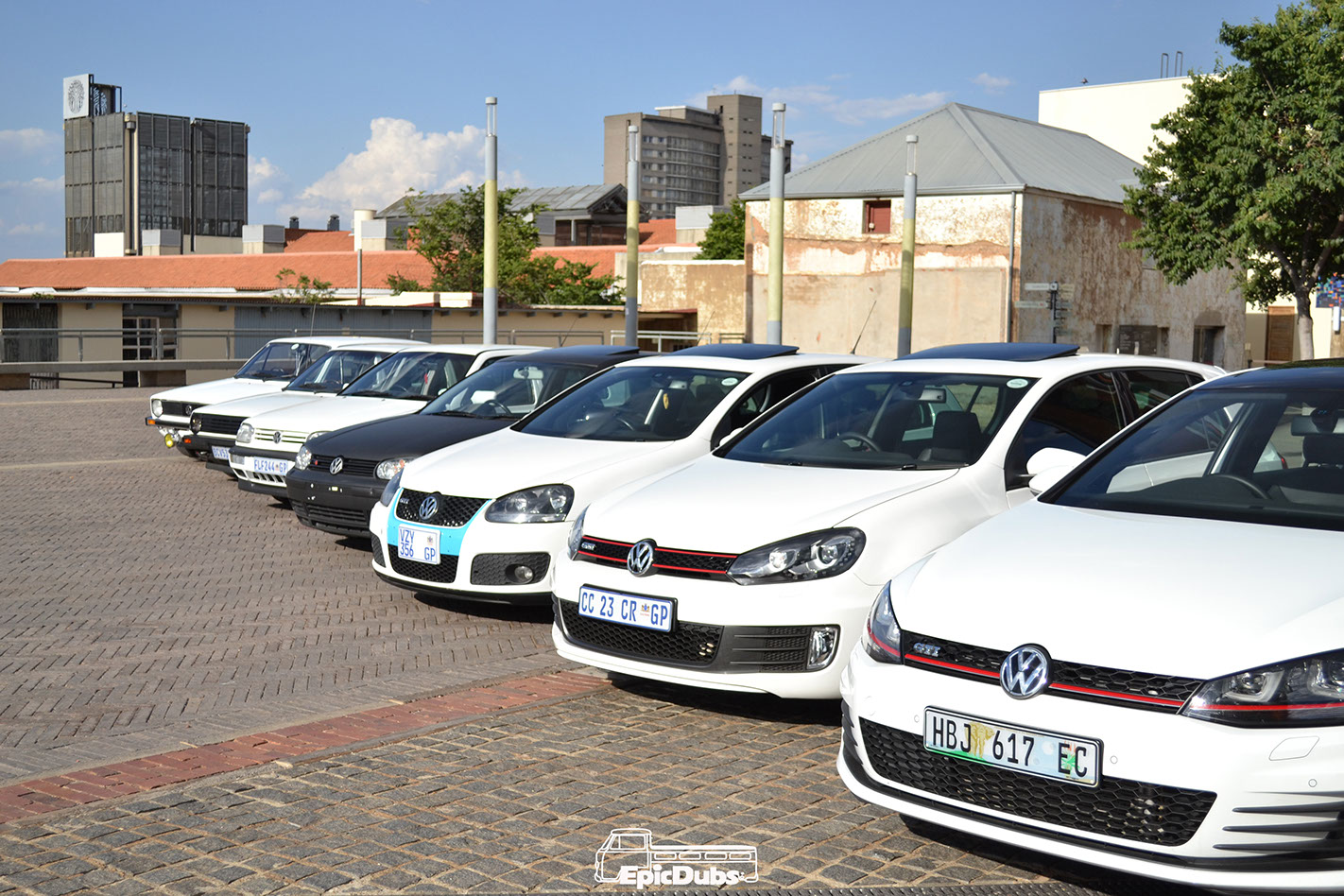 Quick history lesson… The Volkswagen Golf has been around for ages, and it's become a household name across the globe since it hit the market back in 1974. With seven generations of golf it goes without saying that this model has put VW ahead of all its competitors and it's surely to continue creating life-long memories that all families will forever treasure. o when Volkswagen South launched the new MK7 GTI, we had to get behind the wheel of this legendary brand to get a feel of what the German manufacturer has put together – and considering they've got over 40 years of experience there was no chance it will be a disappointment.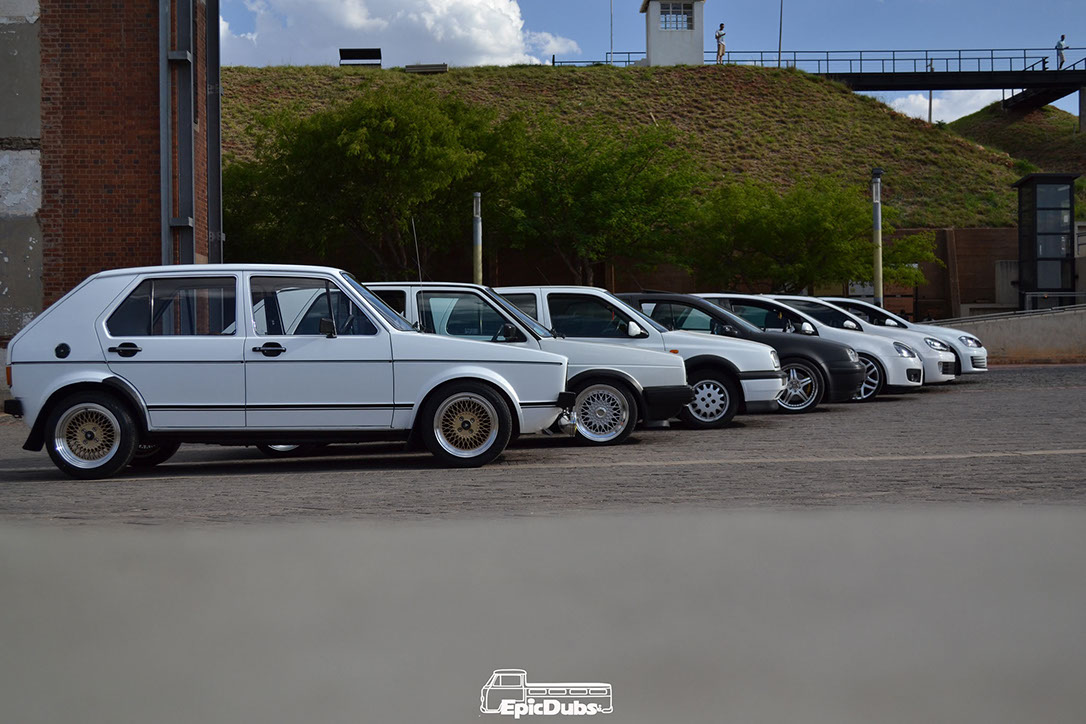 Volkswagen South Africa was kind enough to let us test drive the new GTI and judging by its looks alone the Germans continued with that slick hatchback design which followed up nicely on its predecessors. Equipped with the punchy 2.0 Litre – four cylinder engine it provides a nippy 162 Kilowatts which is felt almost immediately upon flooring the "HotHatch"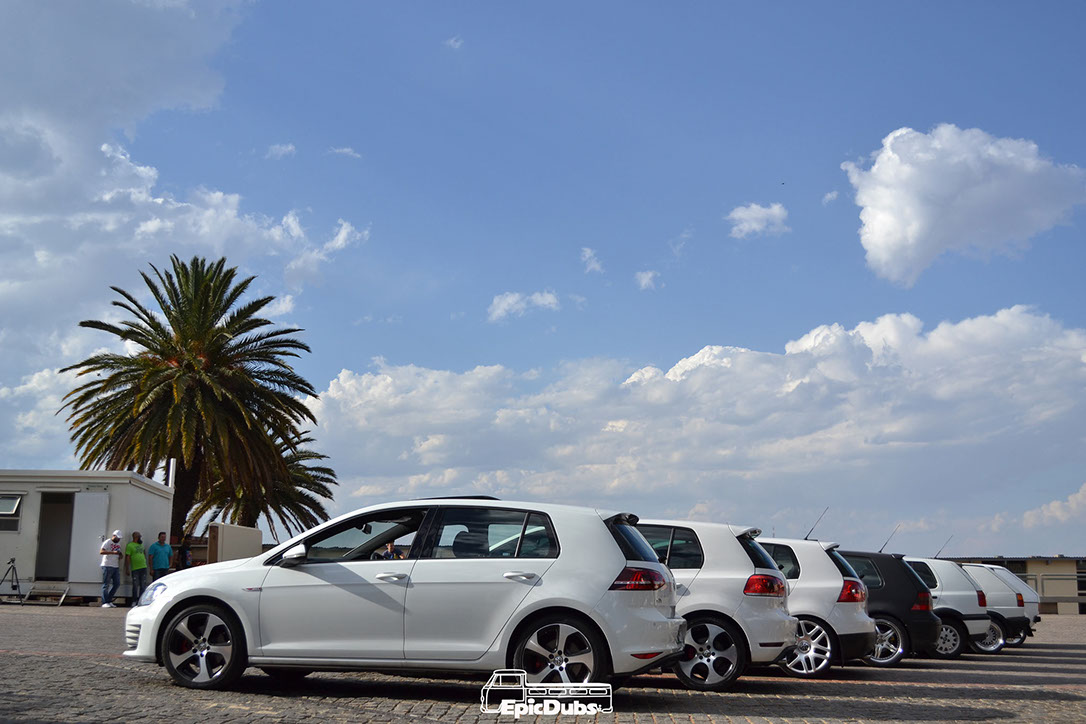 Knowing how we do things here at EpicDubs an idea to have a generation shoot quickly came up and by day 5 of thrashing the manual Hatchback we found ourselves at the iconic Constitution Hill in downtown Joburg and what a fitting venue for a shoot of this magnitude… A place with a rich history boasting 360 degree views of the city of Gold provided a stunning backdrop for an array of Golfs that literally took over the area. Our Mk1 a 1978 1500 on shoot day came courtesy of our long-time friend Ozyar Abdullah who on that particular day was selling the car to fellow enthusiast Duncan Ward (now co-founder of Stancefolk full feature on their cars coming soon) so it was a bitter sweet farewell and hello for both parties… how cool is that though?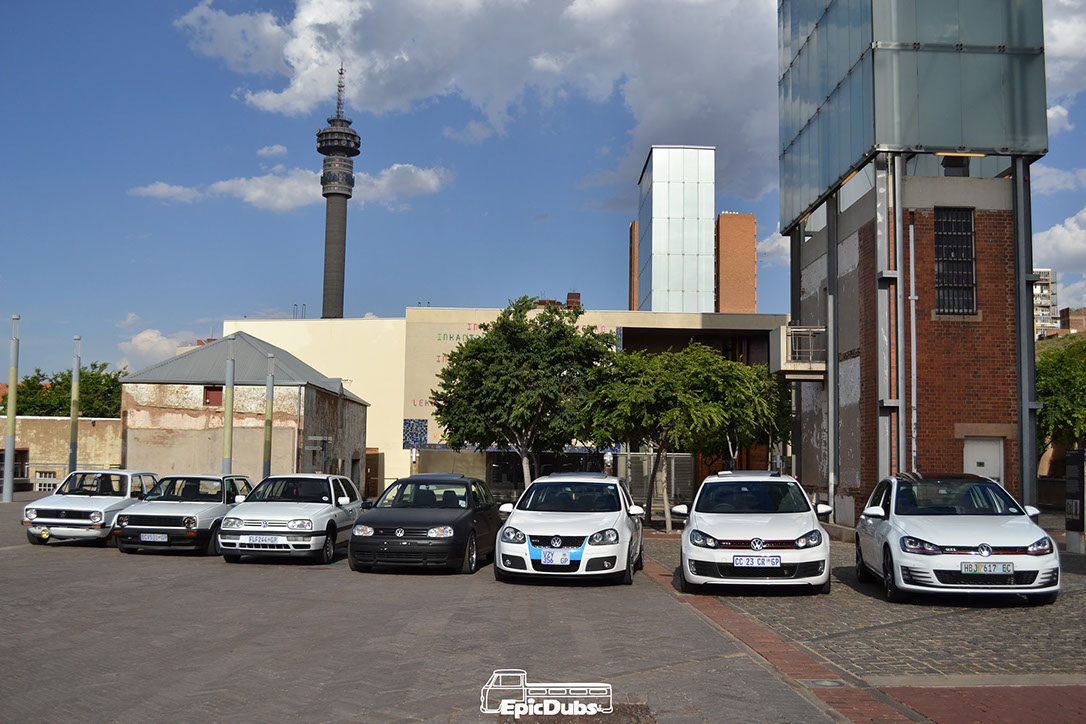 We didn't look far for the Mk2 category as our Co-founder Donovan's daily MK2 Gti was pulled out of the EpicDubs stable. Another car in our stable is a 1998 Mk3 GTS which is bone stock right now including an unmolested 1.8i motor, but we have insane plans for it when the budget does allow us to splurge.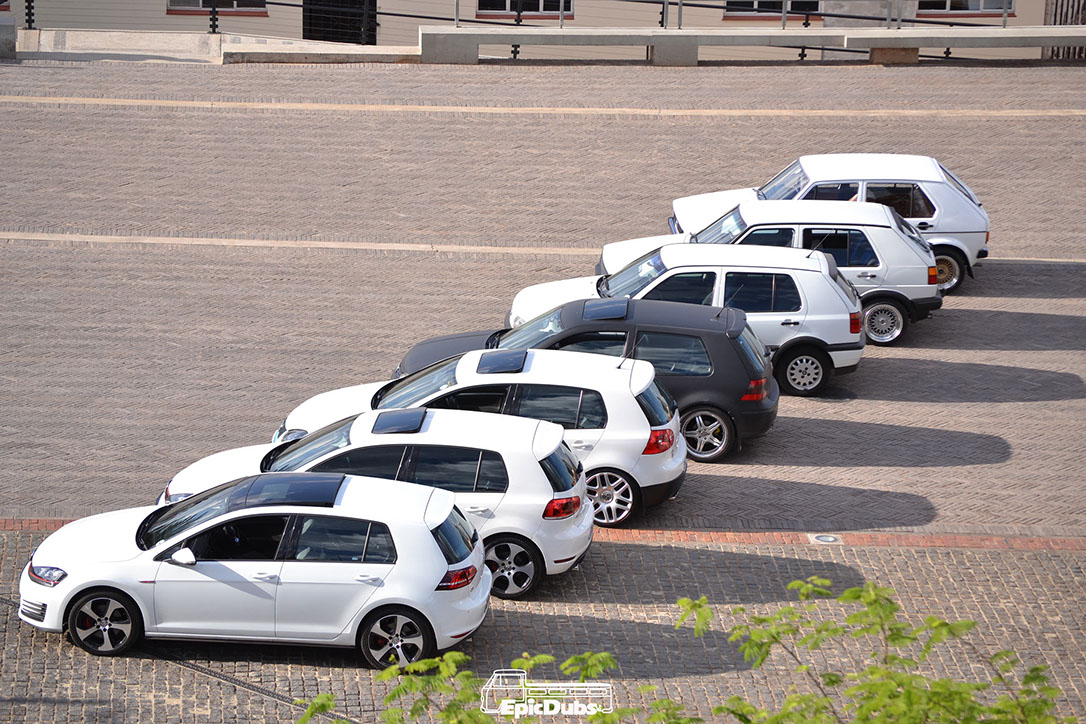 Our one of a kind v6 4motion (UK import) covered the MK4 category and although it was in between looks with a Matte Black finish at the time it still played its part. This 2001 model straight six lump pushes 150 kilowatts and its all-wheel drive…. Now those figures were unheard of in South Africa back then – and to a certain extent for a stock MK4 that's pretty unique in this day and age.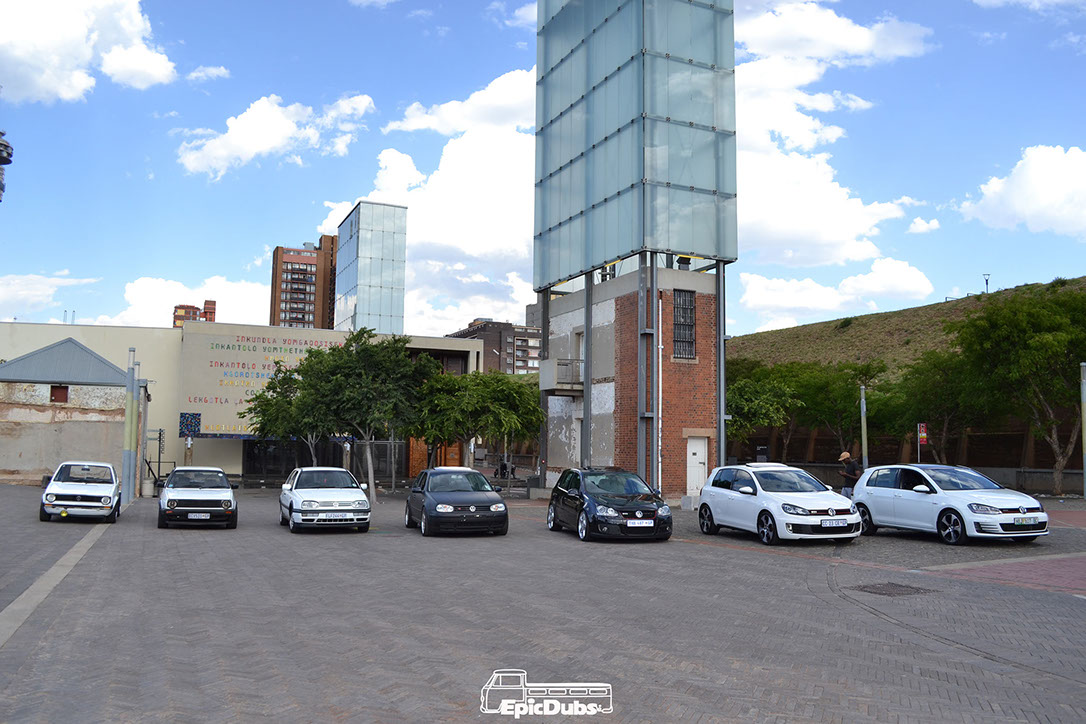 Now we just have to give credit to our resident detailer and car wash guru at Perfection car wash Joey Desai who has been a petrol head all his life (We refuse to delve into how many cars let alone VW's this man has owned)…. We literally asked him to organize a MK5 Gti and in true Joey "show-off tendencies" he organized two glistening MK5's one in black and the other in white (Shout out to Nawaaz and Jo for bringing along their clean examples of Golfs that afternoon). At one point we were so overwhelmed we had to take a picture with both Mk5's because we could.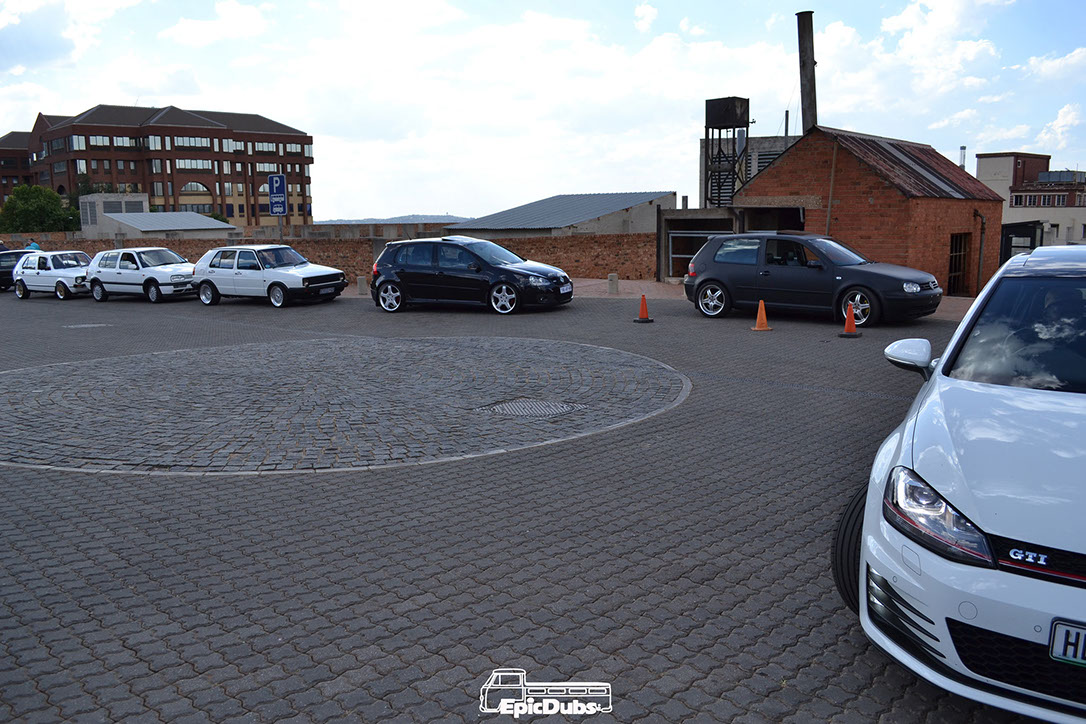 The MK6 we used was easy to convince the owner to pull in… All we did was show our EpicDubs friend and fan Mark Poluta the MK7 GTI, he was sold when we rolled into his drive-way… talking about this man's driveway?? Do the words Porsche GT3, Alfa Spider tickle your fancy? Well when Mark isn't popping his DSG in Joburg traffic daily – he is spoilt for choice come weekend! And on that same note have we mentioned what his VW loving wife kicks about daily??? I think we shouldn't – in fact "the Poluta's" as we've affectionately learnt to refer to them will have their own feature on these very pages you read.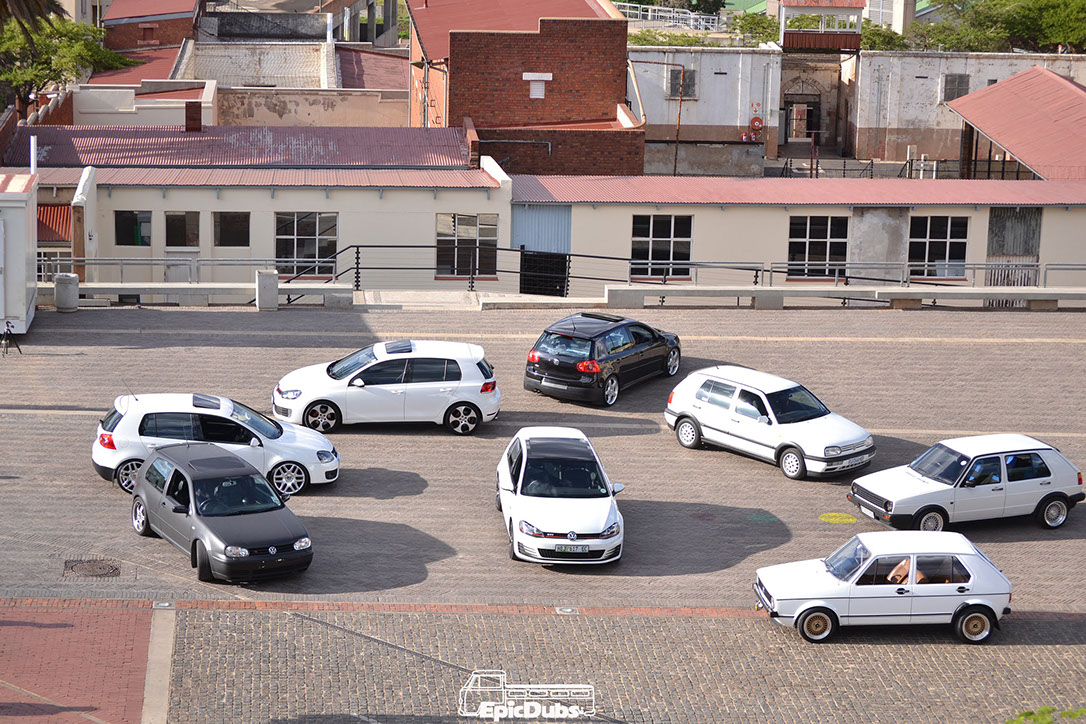 So what can we say? It proved to be a fruitful Saturday afternoon with images that continue to blow us away now. The comforting bit is that someone out there reading this has a warm memory to either one or more of these Golfs that have literally evolved to keep up with the current trends and at the same time starting new memories for their owners and future owners. A big thank you to the guys at the Auto Museum in Wolfsburg Germany for creating one of the best-selling hot hatches in Europe and of course for creating the GTi brand that has dominated South African streets weather it's on racetracks, illegal drags strips, podiums at car shows – the Golf brand is definitely a long standing word that resonates with any follower of the VW movement. Here is to another 40 years of Das Auto.